HAWT Minute & STOMPY: Giom @ Triple Crown SF from HAWT Minute on Vimeo.
Hello everyone! Well, I'm now back home in London, so this will be the second and last blog about my October US tour… I had a wicked time! All shows were really good and so were the crowds. Focus in Orange County was the first show I played and it really showed why this party has been around for so many years : proper house music, proper sound and proper crowd. Derek Dunbar opened for me, so it was great to catch up! We have an EP together on Amenti Music by the way :)
After spending a few days in LA hanging out and making music with Mr Joshua Heath (there is a short video of us in the studio on Facebook, click HERE to watch it), I flew to San Francisco to play at the Triple Crown, which I thought was a really beautiful venue. I also recorded a short interview for the ONE HAWT MINUTE before my set, which is the one you can see at the top of this post. Guesthouse's DJ Mes, Deron-STOMPY-Delgado, the Hawt crew, Greg Yuen and the SF househeads all turned up to say hello which was nice, and we all had a good time until closing time (despite my head going blank at the begining of the gig and requesting the help of Mes to help me out on the cdjs :/ ).
After a few hours sleep, and another couple spent at the Guesthouse studios to show Mes a thing or two on Ableton, …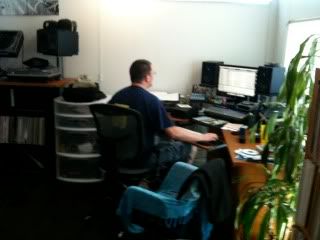 … it was then time to get back on the road, this time to fly a tiny plane to Portland OREGON to meet my friend Trevor and play at Sway Bar. After the electricity went off 4 times and turned all the equipment off on each occasion, we decided to take the party downstairs, to the basement! We stayed up and partied until the early morning and it was a really cool night in the end, despite all the technical problems…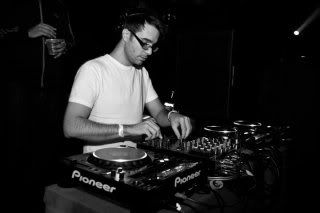 It was then time to wake up and head to the train station. Next stop –> SEATTLE! After a really nice and quiet 4h journey, i headed straight for Re-Bar to play at one of the best house nights I've ever been to, FLAMMABLE! It's really hard to explain it if you haven't witnessed it for yourself, but the tunes, the tempos, the CROWD and everything else about this place are for me what House Music is all about, sweaty, sexy, crisp, and all with an amazing atmosphere, ON A SUNDAY NIGHT?? Amazing if you ask me! Here's my view from the booth.
After recovering from this excellent night, I spent a few days with Mr Carlos Mendoza from my all-time house favourite the Lawnchair Generals and, am pleased to say that we did work on a couple of tracks together, so I'm not going to say anything else about it now but simply watch this space, something will eventually come out :)
After 3 days of music, food (I had possibly the best ham and cheese baguette I've ever had, and I've had quite a few…)
…coffee and introducing everyone to FATBOOTH for Iphone, it was time for me to head to my last stop before heading home, Austin TEXAS! It was my first time in Texas, and i loved it. Fellow house producers the Sun City Hustlers took me out for ribs and steak before heading to Lanai Rooftop Lounge to play my last set of the tour, which will be available for you to stream really shortly. I also met 2 of my favourites DJs and producers there, Mr Dave Barker and J.A.M.O.N, as well as Kim my agent, which sorted everything out for me :) Thanks again Kim!
Ok, enough writing, time to get back to the studio and make some music. Speak soon everyone,
Giom